History (English)
History (English)
History of the Shorinjiryu Kenkokan Karatedo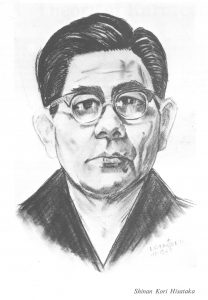 Shorinjiryu Kenkokan Karatedo was founded over 70 years ago, in the early stages of the Showa era (1926 to 1985) in Japan, by Kaiso Masayoshi Kori Hisataka, Kensei 10th dan. Kaiso Hisataka based Shorinjiryu Kenkokan Karatedo on his training in okinawan Karatedo, Shorinji Kempo and various other traditional martial arts, incorporating the combative instincts of certain animals and considering the natural elements of "water, fire, earth, wind, and void".Shorinjiryu Kenkokan Karatedo is based on Kaiso Hisataka's thoroughly scientific approach to the study of armed and unarmed combat, and continues to evolve based on the ongoing study by Kaiso Hisataka's son, Masayuki Kukan Hisataka, the current headmaster of the Shorinjiryu Kenkokan Karatedo Hombu Dojo.
In early stages of the Showa era, Kaiso Hisataka established the first Shorinjiryu Kenkokan Karatedo Dojo, in the Okinawan city of Naha, and following his transfer to China during World War II he established a dojo in Zhangjiakou, Dalian in China.
After the Second World War, seeing the destruction and demoralization wrought by the war, Kaiso Hisataka sought a way to strengthen and help the Japanese people.As a result, in June 1947 he opened his dojo at the Oshima park of Hamada-mura on Kumamoto Prefecture of Kyushu, with the goal of guiding the physical and spiritual development of Japan's youth.
Shortly thereafter the Dojo moved to Shimokitazawa in the Setagaya ward of Tokyo, and then in 1955 moved to Waseda in the Shinjuku ward, where it continues to the present day as the worldwide headquarters of Shorinjiryu Kenkokan Karatedo.
In the opening ceremony of the headquarters Dojo in Waseda, many important Shihans (masters) were present, including Gima Shingi Kensei 10th dan,(who have demonstrated Karatedo with Gijin Hunakoshi at Kodokan.) Ushijima Tatsukuma Shihan,(Who is a teacher of most famous Judoka Masahiko Kimura) and many others.
The current headquarters Dojo in Waseda stands as one of the oldest continually operating Dojos in Tokyo, and is proud to continue 50 years of history.